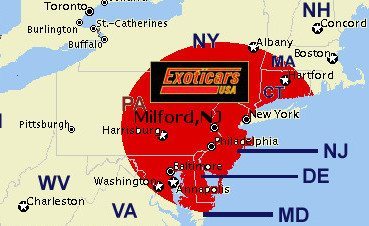 Exoticars USA's service area extends from RI through NYC, Philadelphia to DC. Free pick up within 60 miles.
Main shop: 636 Frenchtown Rd., Milford, NJ 08848.
Located 12 miles south of I-78, 14 miles north of New Hope, PA and 12 miles west of Flemington, NJ.
We are about 1-1/2 hours drive from New York City and 1 hour from Philadelphia, PA.
Our main service shop is 2 miles north of Frenchtown, NJ, a quaint little river town in beautiful Hunterdon County, right across the Delaware River from picturesque Bucks County, Pennsylvania.  If you visit, plan to spend some time in beautiful downtown Frenchtown.  Frenchtown's eating establishments and antique shops attract visitors from far and wide as does the state park bike path bordering both our Milford and Frenchtown locations, offering breathtaking views of the Delaware River, great restaurants and shops.