Your pride and joy should be ready and able at all times to go to a concours or vintage racing or just blasting down your favorite road with the top down if possible. With this in mind, good Ferrari maintenance is the key to preservation and trouble-free driving.
Keeping your prized possession in peak running order requires periodic checking, adjusting, lubricating and even replacing various parts and sub-systems.
Remember, for infrequently driven vehicles, the fluids and rubber parts are impacted more by time than by mileage.
We perform the factory recommended Ferrari, Lamborghini, Maserati 15K, 30K, 60K minor and major services. For your Aston Martin Annually plus all recommended services at 10K, 20K, 30K, 40K miles .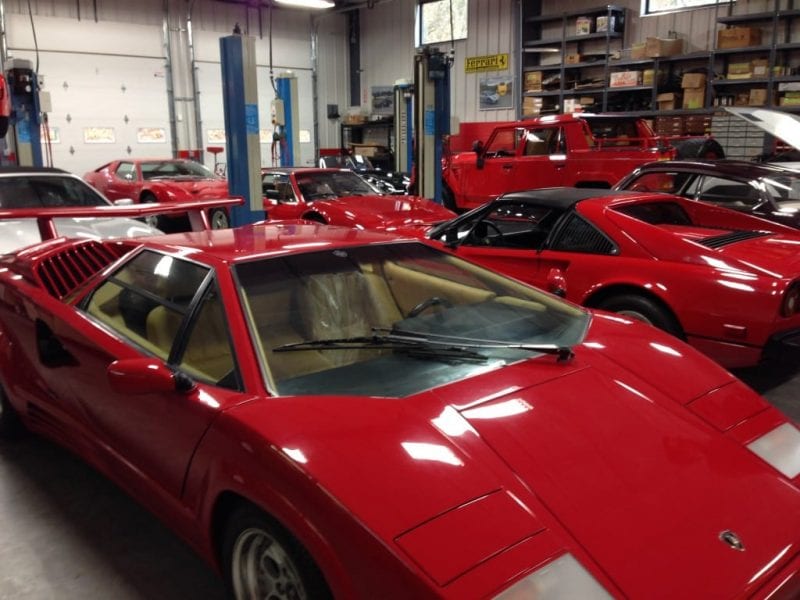 Serving NJ, NY, PA, MD, DC or call to arrange long distance transportation.
In general*  we recommend a 2-year maintenance program:
Annually:
change engine oil and filter
flush and bleed brake and clutch hydraulic systems
check/change air filter
check/change hepa filter
check hoses and belts
check all fluids
check for leaks
check battery and connections
check all lights
check exhaust system
check clutch condition/operation
check suspension components, shocks, springs, etc.
check brake condition/operation
check steering components
check CV joint boots
check wheels and tires
clean/remove moisture trapping dirt in underbody area
check for signs of rodent presence
complete lubrication
Alternate years, above service plus:
drain and flush cooling system
test radiator cap
change transmission/transaxle fluids
MotorVac CarbonClean fuel system service
Additionally every five years:
inspect/replace belts and hoses
replace timing belt(s)
Every 15K*
Every 30K*
For Aston Martin*:
every 10000 or once a year:
10000/1st year        oil filter
20000/2nd year       oil filter, pollen filters, brake fluid change and replacement wiper blades
30000/3rd year        oil filter, air filters
40000/4th year        oil filter, pollen filters, brake fluid change, transaxle oil change and wipers
* for all vehicle makes please always consult your owner's manual
The body and interior also require looking-after on a fairly regular basis to preserve the value of your investment. We have the know-how, experience and enthusiasm to perform any and all maintenance tasks to keep your vintage, classic or late model exotic car reliable, powerful, original and beautiful: clean, buff and wax the exterior, detail the interior, apply rust proofing, rodent protection or any other up-keep requirements you may have.
A great alternative to water and antifreeze is Evans waterless coolant. Since it contains no water, it boils at a much higher temperature and eliminates corrosion in the cooling system. For a lot more details on this great product go to www.evanscooling.com.