Aston Martin repair and services for vintage, classic or late models
For exceptional independent Aston Martin service and repairs in New Jersey and Eastern Pennsylvania, please contact Exoticars USA for an appointment (908)996-4889 | (888)416-7160.
We have facilities in Milford, NJ and in Frenchtown, NJ, along the Delaware River (Hunterdon County) opposite Bucks County PA. We've been in business servicing and restoring Aston Martins in (vintage through modern) since 1985. Visit the Aston Martin gallery.
To meet other owners and have more fun with your Aston Martin we strongly encourage you to join the Aston Martin Owners Club in your region.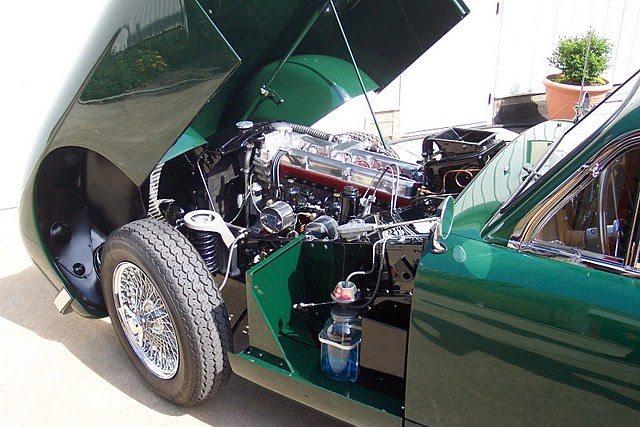 Sport vehicles from Aston Martin combine British reserve with thrilling performance. With a very small number of vehicles to the name, Aston Martin has maintained a global reputation for highly desirable, beautiful and eye-catching vehicles. If you are among the few Aston Martin vehicle owners, our auto repair and service in the tristate area, we are ready to serve you. Our technicians have worked on numerous vehicles – like yours – and, therefore, they know what to do when yours develops a problem. Whether it is routine maintenance or specific repairs, we are ready to smooth your rides. All our mechanics know Aston Martin models inside and out, from the nose to the tailpipe. Giving your vehicle a new look and performance If your car requires repairs for any reasons, our technicians will assess the damages and inform you on what you need to return it to its reliable and safe driving condition. Our technicians do not believe in phantom or add-on repairs. They only believe in treating customers with the courtesy and respect they deserve.
Several parts of an Aston Martin are interconnected and therefore improper maintenance can cause more problems to some parts or the entire system. Actually, ignoring the routine maintenance, including changing the oil and checking the coolant, may lead to poor fuel economy, unreliability and costly breakdowns. If you have not taken your car for check-up for some time, our service team is ready to evaluate its condition and address any issue that may cause problems when driving.
We recommend regular maintenance of your Aston Martin. Our certified ASE technicians have dealer-level diagnostic equipment for all Aston Martin Models. In fact, your vehicle is expensive and requires proper maintenance to continue to last. Aston Martin scheduled maintenance includes:
– 5K Service: Oil and filter service. Look over the vehicle
– 15K service: This includes oil and filter service. Our technicians will also replace A/C cabin air filter and sterilize evaporator box. They will also lubricate the suspension and chassis where possible. Other services in this category include tire pressure correction, lubricating and silicone pasting doorjambs and seals. Expect a complete look over and evaluation of your Aston Martin.
– 30K Service: This includes major maintenance services. Oil and filter services, air and fuel filters, spark plugs replacement, ignition cable set replacement if necessary, drive belts replacements, wiper blades and washer fluid replacement. Our technicians also replace point set and check the ignition timing/dwell angle and set them to the manufacturer's specifications. Other services include brake fluid flush, transmission oil service, chassis and steering components lubrication.
We recommend regular maintenance of your Aston Martin including when repairs are not necessary. Our certified technicians have dealer-level diagnostic equipment and are always ready to service any vehicle. For the best services, contact us today or visit our shop.