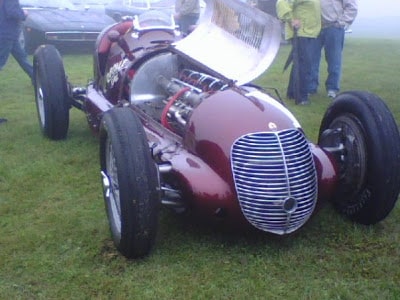 Still enjoying the memories of the 'Belle Macchine d'Italia 2009' at Pocono, hosted at Skytop Lodge and coordinated once again by Joe Corbacio and his daughter. This event has been held in the Poconos every year since 1987 and has only grown in popularity.
Here are some photos from the concours, held Saturday in drizzling, foggy conditions. Happily some stalwart owners braved the elements and helped make it another remarkable gathering of Italian marques.
Will not supply labels with the photos – feel free to comment if so inclined. Yes, we did forget to bring a camera and used a cellphone.
Many thanks to the Corbacios!
– posted by Sandy