For exceptional, independent Aston Martin service and repairs for the Allentown and Bethlehem, please contact Exoticars USA for an appointment.
We offer repair and service for Aston Martin in Allentown and Bethlehem, Pennsylvania.
European and Exotic Car Repair and Auto Body
From Service Repairs to Autobody Preservation and Restoration, we have your European Sports Car covered in Allentown and Bethlehem.
We specialize in Ferrari, Maserati, Porsche, and Lamborghini Service, Repair, and Restoration
We also provide service for Rolls Royce, Bentley, Aston Martin, and all of your other European Sports Cars. When it comes to restoring your classic, vintage, or exotic European automobile – quality is paramount. We use only the best products and aim for perfection in our attention to detail. Our goal is to not only protect your vehicle but to extend the life of all systems that we encounter. When repairs aren't needed, regular maintenance is still necessary for the protection of your vehicle.
We specialize in the restoration of Ferrari, Lamborghini, Maserati, Aston Martin, Porsche, and Jaguar – but we will happily take on your other European marques, special interest, collector and luxury cars.
Aston Martin Service and Restoration in Bethlehem Area

If you are one of the few owners of an Aston Martin, first-class repair and service shops in the tristate are often hard to find. If you're looking for quality service, then we are ready to serve you. Our technicians have worked on countless vehicles just as unique as yours and are knowledgeable enough to help you if yours develops a problem. Whether routine maintenance or specific repairs, you want to feel confident when you drop your exotic car off at the shop. Our mechanics understand Aston Martins inside and out, from bumper to bumper. We thoroughly enjoy working on Maseratis in the Allentown and Bethlehem areas.
We love working on Maserati's. In fact, we restored one of the last living A6 1500 3Cs. From work on the engine, engine compartment, chassis, brakes, interior, fuel system, and suspension, we're experienced enough and qualified to service all models of Maserati. We've also had the pleasure to work on vintage Maserati A6GCS, Maserati A6G/2000 and Maserati 3500GT and have fully restored, with award-winning results, multiple Maserati Ghibli.
Lamborghini Service, Repair, and Restoration in Bethlehem, PA
We also specialize in Lamborghini repair and service in the Allentown and Bethlehem areas.
We have grown with the marque and have the necessary tools to work on ALL Lamborghini models. That includes vintage through the latest models. We provide all services. From restoration, autobody and customizing, through recommended maintenance services, you can feel confident leaving your Lamborghini with us.
We perform all services and repairs on models since the early 80's, back when Malcolm Forbes imported the new Lamborghini Countach from Italy at a time before the US dealership network was established. We'll care about your car as much as you do and correct any dings, dents, scratches from minor touch-ups to full repaints, we do it beautifully. Exoticars USA offers complete service and repairs for all Porsche vehicles in Allentown and Bethlehem.
Porsche Service, Repairs, and Restoration in Bethlehem Area

From the 911 Carrera and 911 Turbo, to the Cayenne, Porsche Boxster, Cayman, 928, 944, 912 and the Panamera, our Porsche specialists have the knowledge and know-how to keep your Porsche in top-notch condition. We pride ourselves on keeping up with the latest diagnostic equipment and computer technology. All of the elements of mechanical repair, service, maintenance, restoration, and collision repair are available. At Exoticars USA we indicate and target what 'work and checks' should be performed in order to keep the cost of ownership reasonable while also keeping your Porsche in optimal condition.
We have a wide variety of tooling and expertise to undergo just about any kind of repair your Porsche might require. From engine rebuilds to electrical problems and scheduled maintenance, our staff is equipped enough to return your Porsche to its original condition in a professional manner. Since we rebuild and have fabrication and machining facilities in-house, our abilities stretch far beyond the average Porsche repair shop.
Exoticars USA Provides Quality Services You Can Trust

Our certified technicians have dealer-level diagnostic equipment and are always ready to service any vehicle. We perform mechanical work on ALL European exotic (BMW, Bentley, Mercedes Benz, Audi, classic Jaguar), special interest and sports cars. Our auto body shop welcomes all European luxury brand cars, including BMW, Bentley, Mercedes, Audi, and Jaguar. So give us a call, we'd love to talk!
Quality Luxury Car Repair Services by Highly Skilled Technicians
Exoticars USA provides complete auto repair, service, and restoration to all Bentley Motors luxury automobiles. Each Bentley has a specific care plan designed per model, and you can depend on us to tackle the job correctly.
Exoticars USA technicians are skilled at all aspects of mechanical service and repair of Rolls-Royce motorcars. Our facility has special tools for the entire range of Rolls-Royce (and Bentley) cars. You can trust us to complete any service on your Rolls accurately and effectively.

Exoticars USA consistently performs quality repair and maintenance services, as well as full and partial restorations on vintage, classic, and late model Ferrari's. We can seriously handle any service you need on your Ferrari – any year or model.
Exoticars USA performs all repairs, maintenance, body work, and full restoration services on any model of Maserati. Our new facility is equipped with specialized tools and equipment needed to service Maseratis (along with other luxury cars).
Mercedes Benz can have high cost of ownership. We strive to keep your costs as low as possible through early identification of any maintenance or service work needed. Our specialists have years of experience with Mercedes Benz auto repairs, maintenance, and restoration. Trust us with your Benz! We know what we're doing.
Audi's deserve care and attention, just because. Our expert technicians service, maintain, and beautifully restore any Audi vehicle to the customer's expectations. Trust our technicians with your European masterpiece.
You can't find another Lamborghini repair shop with the collective knowledge and experience we provide at Exoticars USA. Your Lambo needs preventative maintenance, occasionally needs a repair, and may need body work or possibly restored to original condition. We do it all. And well.
We make caring for your Porsche super simple. This allows you to enjoy the handling, speed, and comfort of your beautiful investment. We can tackle any repair, preventative maintenance, or body work (including full restoration).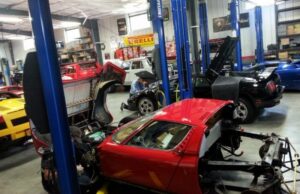 Our certified technicians perform all repairs and services for all import and domestic sports and high performance cars. We are a one-stop destination equipped to handle all your car care requirements.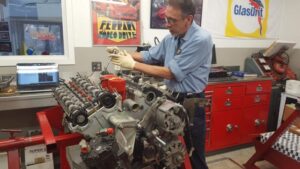 High quality and dependable import and domestic luxury car repair services are hard to come by. You've found your trusted friend in the auto repair business. We love our customers and treat them like family.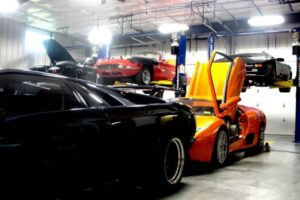 Our Milford, NJ facility is equipped with the specialized tools and equipment needed to ensure our clients receive the finest diagnostics and preventive care.