Aston Martin DB2
Aston Martin, the company, has been hand building cars for discerning buyers and winning races since the early twentieth century. The DB models came after World war II when Aston Martin was bought by David Brown. The most famous Aston Martin is probably the DB5 driven by James Bond in the mid sixties.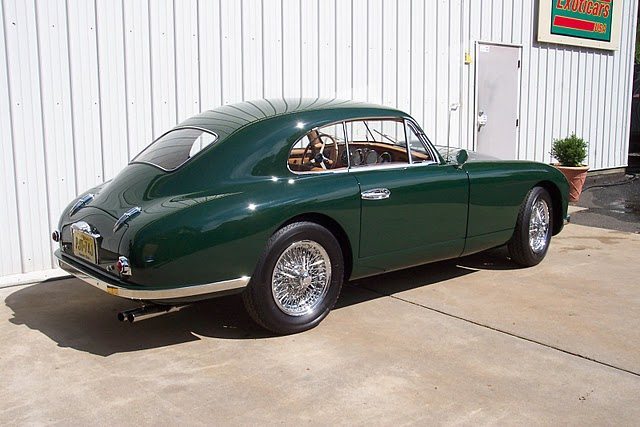 This beautiful DB2, built in 1952, came to our shop a few years ago needing some repairs but as we started working on it one frightening thing after another was uncovered. Part of the chassis had rusted away, every bearing journal on the crankshaft was a different size, every single spoke in the wire wheels was loose, the bonnet (hood) had been crash damaged and badly repaired several times apparently (requiring extensive aluminum body panel fabrication) and the list went on.
She runs and looks like new now and it's easy to forget the challenges we ran into along the way. For example, this car has 3/16″ flat glass in the doors. New windows were required and usually we have flat windows cut from safety glass from a local supplier. Apparently 3/16″ safety glass is no longer available. Quarter inch wouldn't fit so we tried 1/8″ but as soon as we started road testing the thin glass started cracking. The only other choice was 3/16″ tempered glass (like the original equipment) but having tempered glass windows made is a bit more complicated. New windows were cut and sent out to be tempered (for strength) and one exploded in the oven. Later when we finally had the new side windows in our possession, one of them had been made a hair too wide and would not fit. Safety glass could have been trimmed on a special belt sander at the glass shop but that is a no no with tempered glass. It shatters into a million little pieces. Lucky for everyone we were able to make adjustments inside the door.
Radial tires, electronic ignition (Pertronix retro fit kit in the distributor) and a Bosch coil were trade-offs to make this classic more fun to own. The wood rim, aluminum steering wheel is also not original but adds a nice touch to the interior.
The lazy speedometer was fixed with some judicious cleaning and a drop of real whale oil in the right place.