Please stop by our main Milford, NJ shop and ask for a tour of our facilities if there is a car project we can help you with.
Hand-Built Cars in New Jersey by Exoticars USA
Project car: custom built 1958 Ferrari Testa Rossa
We would have loved receiving the assignment to build this Ferrari custom aluminum bodied Testa Rossa from scratch, but we didn't. It's too bad because we would have done a better job! Instead we received the car for service because the engine was making a metallic noise and it ran on no more than 6 of its 12 cylinders. We fixed all that but found problems with the suspension, the steering, the cooling system, the ignition system, the throttle linkages, the electrical system, body to chassis alignment, the paint, the wheels and tires, etc, etc.This car needed major sorting and re-engineering. It now runs and drives beautifully.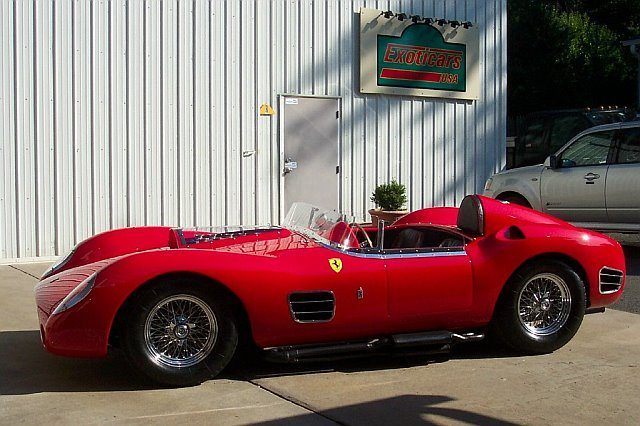 When first built, she apparently had a vintage Ferrari V12 engine but that was replaced with a Jaguar V12 equipped with Electromotive computer controlled fuel injection and distributorless ignition and TWM throttle bodies before we received the car, in an attempt to make the car more user friendly. Unfortunately none of this equipment had been set up properly, which is why it wasn't running right (I imagine the carburetors and distributors on the original Ferrari engine weren't set up correctly either). The metallic noise had made us wonder if the engine had a loose valve seat, or something like that, but after removing a cylinder head the cause turned out to be a piece of copper wire lying on top of a piston and making contact with the head. Not having air filters, the engine apparently just sucked the copper wire in. Luckily it didn't do any serious damage.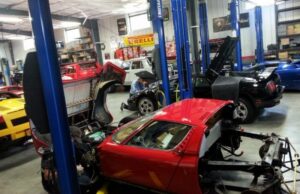 Our certified technicians perform all repairs and services for all import and domestic sports and high performance cars. We are a one-stop destination equipped to handle all your car care requirements.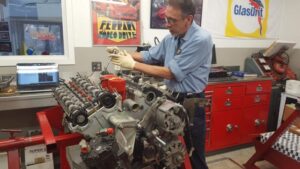 High quality and dependable import and domestic luxury car repair services are hard to come by. You've found your trusted friend in the auto repair business. We love our customers and treat them like family.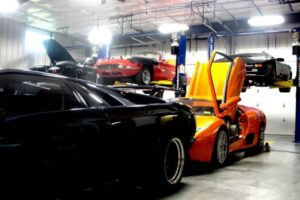 Our Milford, NJ facility is equipped with the specialized tools and equipment needed to ensure our clients receive the finest diagnostics and preventive care.
Quality Luxury Car Repair Services by Highly Skilled Technicians
Exoticars USA provides complete auto repair, service, and restoration to all Bentley Motors luxury automobiles. Each Bentley has a specific care plan designed per model, and you can depend on us to tackle the job correctly.
Exoticars USA technicians are skilled at all aspects of mechanical service and repair of Rolls-Royce motorcars. Our facility has special tools for the entire range of Rolls-Royce (and Bentley) cars. You can trust us to complete any service on your Rolls accurately and effectively.

Exoticars USA consistently performs quality repair and maintenance services, as well as full and partial restorations on vintage, classic, and late model Ferrari's. We can seriously handle any service you need on your Ferrari – any year or model.
Exoticars USA performs all repairs, maintenance, body work, and full restoration services on any model of BMW. Our new facility is equipped with specialized tools and equipment needed to service BMW's (along with other luxury cars).
Mercedes Benz can have high cost of ownership. We strive to keep your costs as low as possible through early identification of any maintenance or service work needed. Our specialists have years of experience with Mercedes Benz auto repairs, maintenance, and restoration. Trust us with your Benz! We know what we're doing.
Audi's deserve care and attention, just because. Our expert technicians service, maintain, and beautifully restore any Audi vehicle to the customer's expectations. Trust our technicians with your European masterpiece.
You can't find another Lamborghini repair shop with the collective knowledge and experience we provide at Exoticars USA. Your Lambo needs preventative maintenance, occasionally needs a repair, and may need body work or possibly restored to original condition. We do it all. And well.
We make caring for your Porsche super simple. This allows you to enjoy the handling, speed, and comfort of your beautiful investment. We can tackle any repair, preventative maintenance, or body work (including full restoration).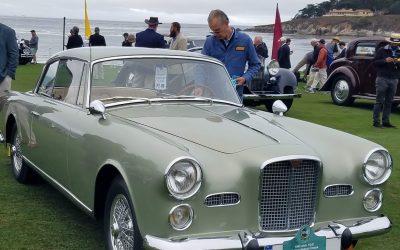 It would be an enormous omission not to blog about our trip to the 2022 Pebble Beach Concours...