Lamborghini Miura Restoration in NJ
Over the years many Lamborghini Miura restorations have passed through our doors. Since we currently have 2 Miura projects in-house, an engine rebuild and a complete ground up restoration, we thought we'd take the opportunity to share the journey for anyone in the midst of a restoration or contemplating taking the plunge.
The Miura pictured above was non-running when it arrived at Exoticars USA.  After some preliminary engine work (carburetors, gaskets, rough set timing, new spark plugs and wires), we took a video of the first time the engine had been started after a 25 year sleep: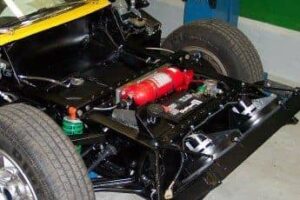 We've previously blogged about Lamborghini Miura restoration (wheels) , about adding an essential fire protection system in the engine compartment, about Miura engine rebuilding and about restoration work in general.
We will revisit this subject again and build a story about the processes involved in getting one of these iconic beauties out of the barn and back on the road.