For the highest quality European and Exotic Car service and repairs for the Allentown PA and Bethlehem, NJ areas – contact Exoticars USA for an appointment.
Aston Martin, Porsche, Jaguar Full-Service Auto Body and Repair Shop
At Exoticars USA — quality, efficiency, and customer satisfaction are over everything else. We specialize in restoration, repair, and all services for Aston Martin, Jaguar, and Porsche – but we will happily take on other prized marques, special interest, collector, and luxury cars.
If you are an Aston Martin vehicle owner, we are your one stop shop for world-class auto repair and service in the tri-state area. Trust us with your car's 'white-glove' treatment and sleep easy knowing that your car is in capable hands. Our technicians work on numerous vehicles – like yours – and, therefore, they know what to do when yours might develop a problem. All our mechanics know Aston Martin models inside and out, and from bumper to bumper. If your Aston Martin lacks a maintenance and oil change schedule, we can create one for you. We also can fully restore any Aston Martin to its original glory.
We offer all European exotic auto services in the Bethlehem area
Regardless of the service, you may need, we are dedicated to the highest level of detail, maintenance, customization, and fabrication of all of your exotic car needs. We are confident when it comes to working on custom, hand-built cars, repairs or manufacturer recommended scheduled maintenance.
Specializing in full-service repair for Jaguar Cars in Bethlehem NJ
Taking your Jaguar in for regularly-scheduled maintenance is crucial to extend the overall lifespan of your vehicle.  Jaguar recommends a series of distance-measured inspections to make sure your vehicle is working to the best of its ability. Below are just a few benchmarks that our technicians know you should be hitting in order to optimize your car's performance:
At 5,000 miles you need to change the oil and filter, check heating systems, check fluids, inspect and rotate tires, check windshield wipers, belt and hoses and air and lubricate door hinges.
At 15,000 miles it is recommended to do the services we just listed as well as having the spark plugs replaced.
At 30,000 miles it is recommended that you perform all the services listed already. You should also plan to change rear axle, transmission fluid, and filter and inspect rear transmission.
Our certified technicians have dealer-level diagnostic equipment and are always ready to service any vehicle.
Complete service and repair for Porsche's in Allentown and Bethlehem
From the 911 to the Porsche Boxster, the Cayman, 944, 912 and all other models, our Porsche experts supply expert repairs and diagnostics. All aspects of automotive repair, service, maintenance, restoration, and collision repair are available.
We keep up with the latest diagnostic equipment and computer technology. Our tooling and expertise comes in a wide variety and we are able to keep up with just about any type of problems or services you need. Because we rebuild and have fabrication in-house, we have abilities beyond the average Porsche repair shop.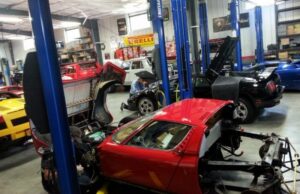 Our certified technicians perform all repairs and services for all import and domestic sports and high performance cars. We are a one-stop destination equipped to handle all your car care requirements.
High quality and dependable import and domestic luxury car repair services are hard to come by. You've found your trusted friend in the auto repair business. We love our customers and treat them like family.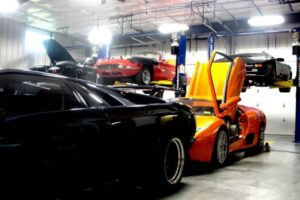 Our Milford, NJ facility is equipped with the specialized tools and equipment needed to ensure our clients receive the finest diagnostics and preventive care.
Quality Luxury Car Repair Services by Highly Skilled Technicians
Exoticars USA provides complete auto repair, service, and restoration to all Bentley Motors luxury automobiles. Each Bentley has a specific care plan designed per model, and you can depend on us to tackle the job correctly.
Exoticars USA technicians are skilled at all aspects of mechanical service and repair of Rolls-Royce motorcars. Our facility has special tools for the entire range of Rolls-Royce (and Bentley) cars. You can trust us to complete any service on your Rolls accurately and effectively.

Exoticars USA consistently performs quality repair and maintenance services, as well as full and partial restorations on vintage, classic, and late model Ferrari's. We can seriously handle any service you need on your Ferrari – any year or model.
Exoticars USA performs all repairs, maintenance, body work, and full restoration services on any model of BMW. Our new facility is equipped with specialized tools and equipment needed to service BMW's (along with other luxury cars).
Mercedes Benz can have high cost of ownership. We strive to keep your costs as low as possible through early identification of any maintenance or service work needed. Our specialists have years of experience with Mercedes Benz auto repairs, maintenance, and restoration. Trust us with your Benz! We know what we're doing.
Audi's deserve care and attention, just because. Our expert technicians service, maintain, and beautifully restore any Audi vehicle to the customer's expectations. Trust our technicians with your European masterpiece.
You can't find another Lamborghini repair shop with the collective knowledge and experience we provide at Exoticars USA. Your Lambo needs preventative maintenance, occasionally needs a repair, and may need body work or possibly restored to original condition. We do it all. And well.
We make caring for your Porsche super simple. This allows you to enjoy the handling, speed, and comfort of your beautiful investment. We can tackle any repair, preventative maintenance, or body work (including full restoration).

Ferrari Service, Diagnostics, and Repair in New Jersey
We've been serving the exotic car community and providing Ferrari service in New Jersey and beyond since 1979. Our brand focus is Ferrari, Lamborghini, Maserati, and Aston Martin, for all model years. Our team performs mechanical work, all services and diagnostics on most other European (BMW, Bentley, Porsche, Mercedes Benz, Audi, classic Jaguar), special interest, exotics and sports cars.
Our restoration and auto body shop welcomes all luxury brand vehicles, including Audi, Lexus, BMW, Bentley, Mercedes, Audi, Jaguar, American muscle, etc. We will care about your car as much as you do. We can correct any dings, dents and scratches from minor touch ups to bumper repainting to full car repainting. No job is too big or too small. We are proud to serve NJ and Eastern Pennsylvania. Longer distances can be accommodated.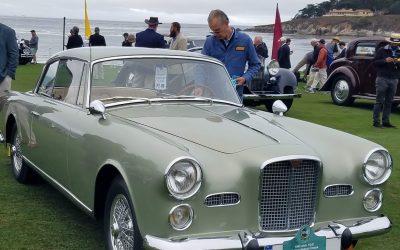 It would be an enormous omission not to blog about our trip to the 2022 Pebble Beach Concours...