Taking a throwback look to 2016 when our client's Lamborghini LM002 American was a featured display for a season at the American Automobile Club Association Museum (AACA)  in Hershey, PA. Here is Wil de Groot on display with this highly desirable 'American' model, of which only 60 were built. (Note: Wil was not a permanent part of the exhibit).
This 26 year old rare Italian SUV was treated to some extensive autobody refinishing at Exoticars USA to bring it back to its full glory. The story of these late 80s raging bulls is fascinating so please do go to Wikipedia or a Lamborghini fan site and read more.
If you are into automotive history and your are visiting the area, we heartily recommend a trip to the museum. Spanning three floors, the museum facilities are top notch and there are always interesting vehicles on exhibit.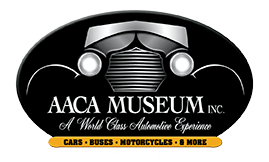 Click on the logo to go straight to the AACA website for directions, a list of current exhibits and complete information.
The AACA is a member of the Smithsonian Institution Affiliations Program.