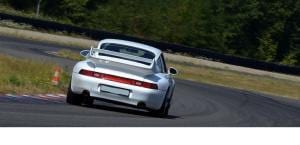 If you are the owner of a (now very sought after) 993 Porsche, you know how important setting the suspension is. It was the last iteration of the air-cooled, rear-engined drivers machine. Porsche poured everything they knew into fine tuning this car from all their years of development.
The rear suspension/steering of a 993 differs greatly from any other Porsche ever designed which is one of the reasons it has gained the respect of many enthusiasts. Strategically placed rear control arms and links provide the 993 with a virtual king-pin axis, toe angle, and camber angle that all change throughout the arc of the suspension travel providing the stability and traction needed during high performance driving to keep all that rear-biased weight working as an advantage and not a disadvantage.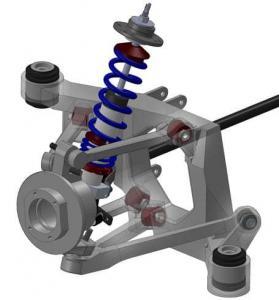 We have the knowledge and tools to properly set your 993 Porsche alignment. It takes time to properly set everything, but if you demand the best out of your 993, this is the only option. We first make sure your dampers are performing well and ride-heights are at proper or desired specs.  The rear toe-steer, kinematic, and camber links all get adjusted to create a virtual elasto-kinematic king-pin axis which is invisible to all laser-guided or string method alignment racks which is why we use special gauges to measure this. Once the rear is all set, we move to the front which is quite simple in comparison.
The result is a precise, predictable, and responsive machine that will provide a faster, safer, and more enjoyable experience whether it be at the racetrack or a weekend blast through the local twisties. Tailoring the adjustments to your driving style/intentions are important as well and will not be overlooked.